Food is one of the strongest sources of memory for me.  I can remember what we were eating and when we were eating it all the way back to high school (maybe even earlier, if I think about it).  So when my husband and I are out travelling, food is one of the most important things.  A few years ago, we were on a trip to Texas and stopped by at our favorite road-side gas-station BBQ (doesn't everybody have one of those?), Rudy's and I was intrigued by an item on their menu: Green Chile Stew.  So, I asked the lady behind the counter what it was and the answer made me chuckle:
"Oh, you know, it is just a normal stew.  It has brisket and green chiles in it."
Uh..in California brisket is an exotic meat. And my mom never made a stew with chiles in it.
So, I had to try it.  And, it was WONDER-ful.  Oh, and it was free because she gave me a "taste"!  Since then, I have had those flavors rolling around in my memory and I have wanted to make a knock-off.
I finally did it and here is how:
Green Chile Stew:
Ingredients:
1/2 lb. smoked beef brisket, chopped (if you don't have brisket, you might try using leftover roast beef)
1 medium onion
2 cloves garlic
1 (7 oz.) can chopped green chiles
1 (15 oz.) can fire-roasted tomatoes
8 oz. green salsa
1 box beef stock
Procedure:
Pour all ingredients into slow cooker, cover and cook for 4-6 hours on low.
Yes, that was the one step!  Not bad for a simple dinner!  And the results were wonderful!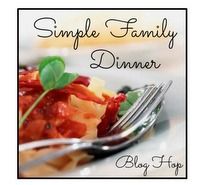 I am posting this recipe as part of a recipe exchange through a great group of bloggers called the Kid Blogger Network.  The button above links you to the recipe exchange board on Pinterest.  There are lots of great easy family meals on the board.  So, if you are in need of inspiration for dinner tonight or this week, go check it out!
Or you can link to any of these:
Enchanted Homeschooling Mom
|
Inspired by Family
|
Sun Scholars
|
This Reading Mama
|
Life by Ashley Pichea
|
In Culture Parent
|
Raising Life Long Learners
|
Glittering Muffins
|
Life at the Zoo
|
Octavia and Vicky
|
Kid World Citizen
|
Kitchen Counter Chronicles
|
Nomad Parents
|
Childhood 101
|
Triple T Mum
|
Adventures in Mommydom
|
The Freckled Homeschooler
|
Teach Beside Me
|
The Chirping Moms
|
Discovering the World Through My Son's Eyes
|
So You Call Yourself a Homeschooler
|
Pickle Bums
|
The European Mama
|
The Golden Gleam
|
Forever, For Always, No Matter What
|
Motherhood on a Dime
|
Harrington Harmonies
|
Rainy Day Mum
|
Jenni Fischer
|
Cakes and Sribbles
|
Toddling Into Madness
|
Mermaids' Makings
|
Mud Hut Mama
|
Here Come the Girls
|
All Done Monkey
|
Small Potatoes
|
Little Artists